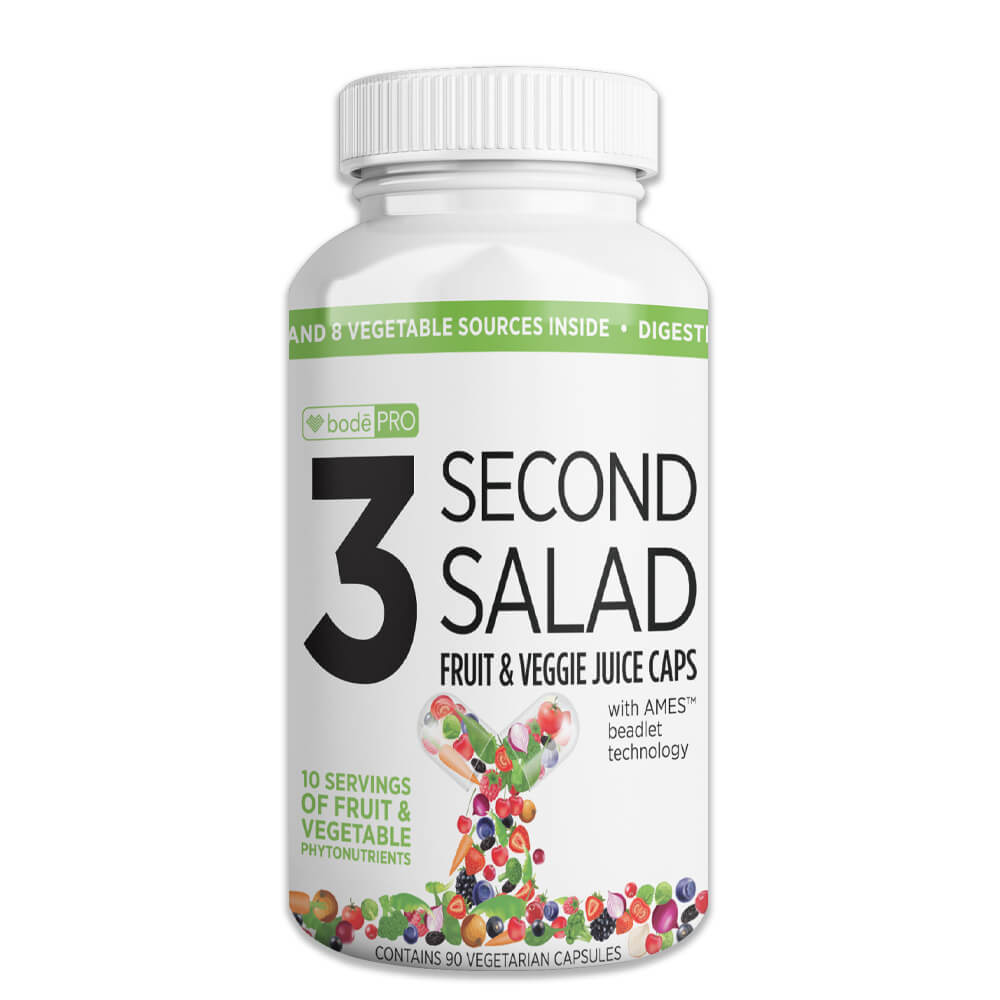 3 Second Salad
1 Bottle 3 Second Salad (90 vegetarian capsules)
79.95 USD
Say hello to the 3 Second Salad Fruit & Veggie Juice Caps.
The physician formulated 3 Second Salad provides the phytonutrient equivalent of 10 servings of fruits & veggies all contained inside a convenient, portable, and ready to take capsule.† Just 3 seconds a day can help lead to a healthier you.
The groundbreaking AMES™ beadlet technology inside each capsule allows 3 Second Salad to provide a slower and protected release of phytonutrients for maximum absorption.*
The power of science and specific technological advancements have made it all possible to get your produce in pill form.
3 Second Salad contains REAL FRUIT inside in the form of 16 potent fruit and vegetable extracts including: Bilberry, Blueberry, Broccoli Extract, Broccoli Sprout, Brussels Sprouts, Carrot Powder, Cranberry, Grape Seed Extract, Kale, Onion Extract, Prune, Raspberry, Spinach Powder, Strawberry, Tart Cherry, and Tomato Powder.
Key Highlights
- AMES™ (advanced micro-encapsulated system) beadlets with Slow Release technology to promote maximum absorption.*
- Proprietary blend of 8 distinct vegetable extracts and powders, providing 5 servings of vegetable phytonutrients.
- Proprietary blend of 8 unique fruit extracts that provides 5 servings of vital fruit phytonutrients.
- Proprietary Trace Mineral Blend featuring an assortment of 72 different essential minerals.
- Beadlets are naturally sweetened with monk fruit to create a pleasant taste. This creates the unique option to open the capsules and sprinkle them on food, add in your favorite recipe, in a smoothie, yogurt, or truly any meal.
- Proprietary blend of potent Digestive Enzymes to promote healthy digestion, absorption, and nutrient utilization.*
Eating a diet rich in phytonutrients (a.k.a. plant nutrients) promotes cellular health and supports proper immune function.* It has never been more important to eat a balanced diet and make sure you are getting enough fruits & vegetables. When you can't get enough, get 3 Second Salad.
3 Second Salad Fact Sheet