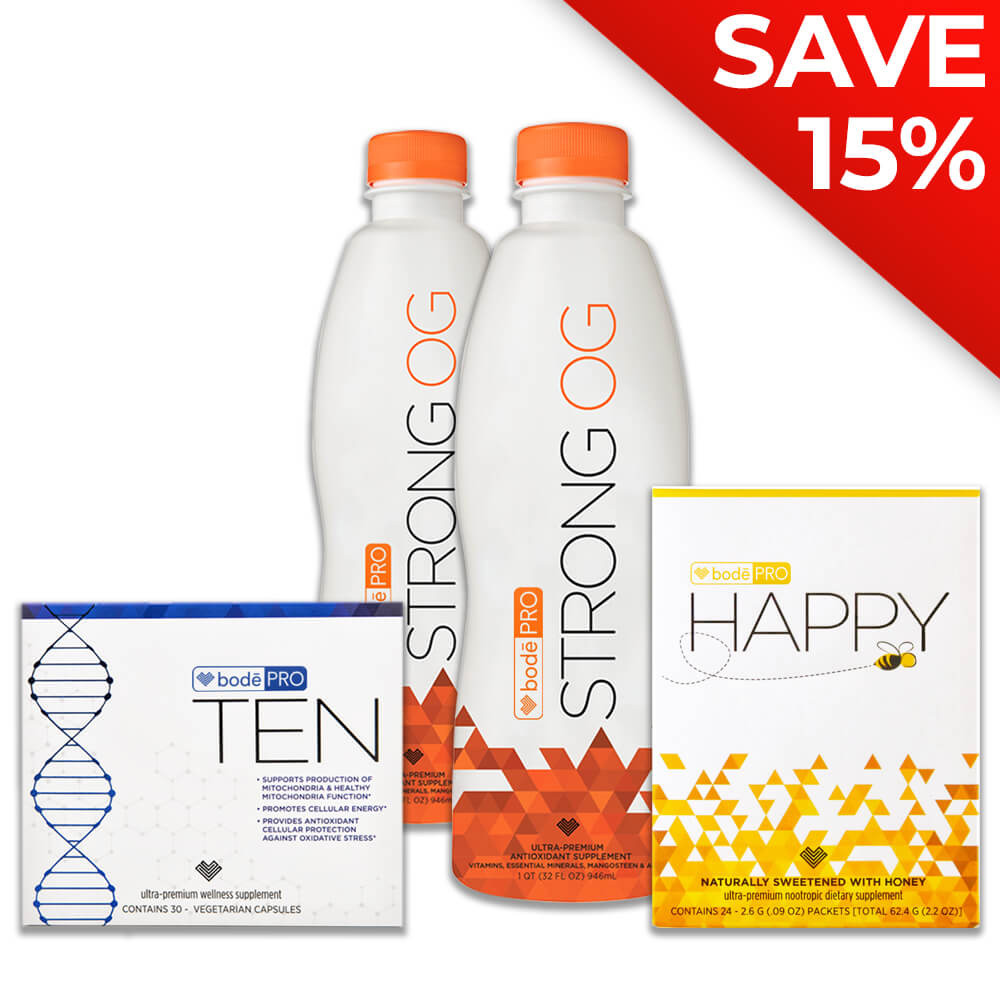 Age Smarter Pack
1 Case Strong OG (2 - 32 oz. bottles)
1 Box TEN (30 capsules)
1 Box Happy (24 packets)
187.95 USD
SAVE 15% OFF WHEN YOU PURCHASE THE AGE SMARTER PACK!
Say hello to the Age Smarter Pack, our most cost-effective way to start revolutionizing your health today. As a special bonus, you will save 15% off the retail price when you purchase this special bundled product pack compared to purchasing each product separately.
Featuring two bottles of the best-selling Strong OG, a box of the powerful Bodē TEN, and a box of the incredible Bodē Happy, this special product collection was designed to give you a well-rounded approach to cellular energy and health.
Strong OG is the original liquid immune booster.* This formula is a clinically studied, bioavailable, ultra-premium liquid antioxidant that contains 12 essential vitamins, over 65 plant-sourced minerals, whole-fruit mangosteen, organic glyconutrient-rich aloe vera and organic decaffeinated green tea for the ultimate nutritional foundation.*
Bodē Pro TEN is our clinically studied flagship formula that focuses on the source of all your energy: your mitochondria. This one-of-a-kind, ultra-premium nutritional supplement works to enhance your cellular energy production, increase your stamina, and fight against free radicals and oxidative stress.*
Bodē Pro Happy is our smart energy supplement that has been specifically designed to promote productivity, focus, alertness and support cognitive function all while increasing your energy at the cellular level.*
Redefine your idea of optimal health with the Age Smarter Pack only from Bodē Pro.