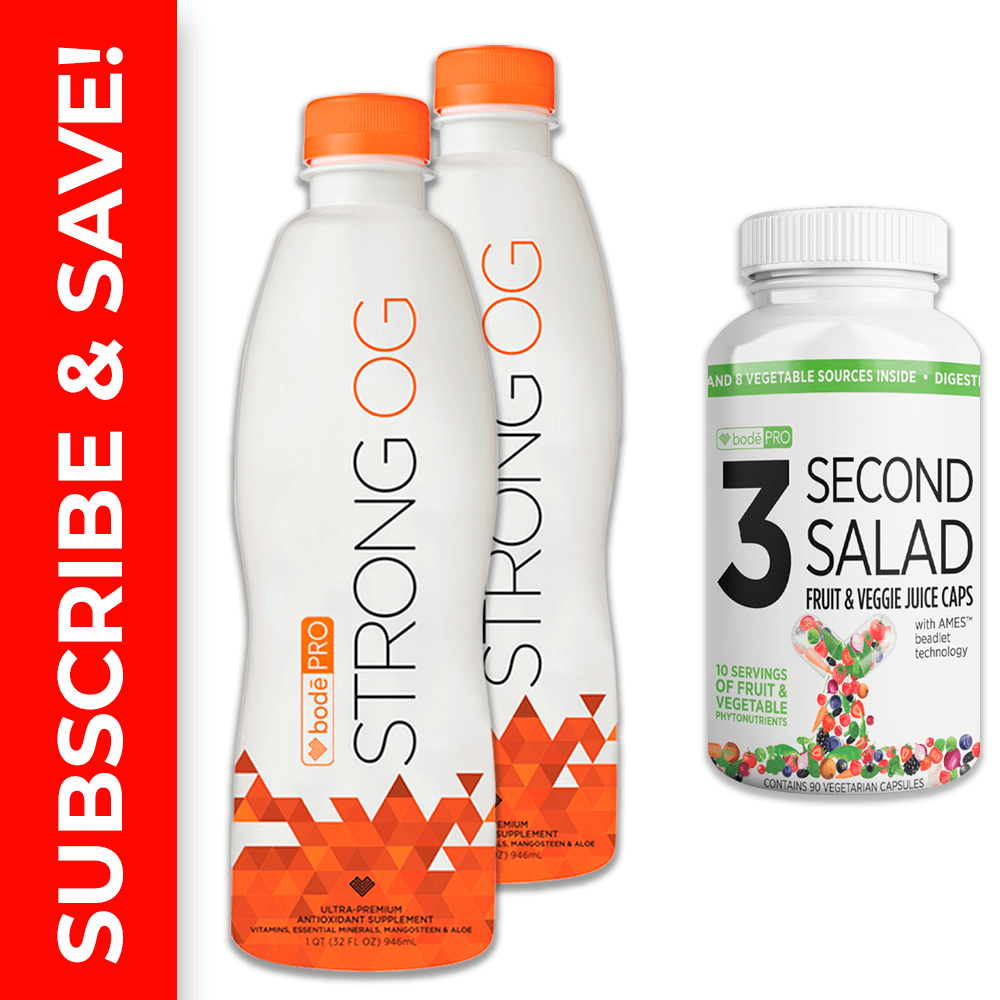 Cellular Pack OG
1 Bottle 3 Second Salad (90 vegetarian capsules)
1 Case Strong OG (2 - 32 oz. bottles)
Price:
123.00 USD
110.00 USD
(with subscription)
Setup monthly AutoShip and save 10% off each Purchase of this item
Our Cellular Pack OG combines the power of 10 servings of fruit & vegetable phytonutrients, 72 essential minerals, and potent digestive enzymes with the clinically studied power of Strong OG, the original liquid immune booster packed with 12 essential vitamins, over 65 plant-sourced minerals, whole-fruit mangosteen, organic glyconutrient-rich aloe vera, and organic decaffeinated green tea for the ultimate nutritional foundation.*
This special Cellular Pack OG contains built-in savings that level up when you Subscribe & Save! Never worry about running out of your favorite products and save an additional 10% on this Cellular Nutrition Pack when you set up AutoShip.
The physician formulated 3 Second Salad provides the phytonutrient equivalent of 10 servings of fruits & veggies all contained inside a convenient, portable, and ready to take capsule.† The groundbreaking AMES™ beadlet technology inside each capsule allows 3 Second Salad to provide a slower and protected release of phytonutrients for maximum nutrition absorption.*
Strong OG is quite possibly the most powerful liquid antioxidant available anywhere and actively works to nourish your body on a cellular level.* The benefits of Strong OG have been backed by two distinct scientific clinical studies which have shown that individuals who consume Strong OG on a regular basis exhibit:
- Significant improvements in immune markers*
- A lowering of CRP -- an important marker for inflammation*
- Superior antioxidant absorption*

When it comes to cellular health, nothing compares to Strong OG.
Support your cells like never before with this ultimate duo of complete cellular nutrition.
Subscribe & Save today to unlock your next level savings.