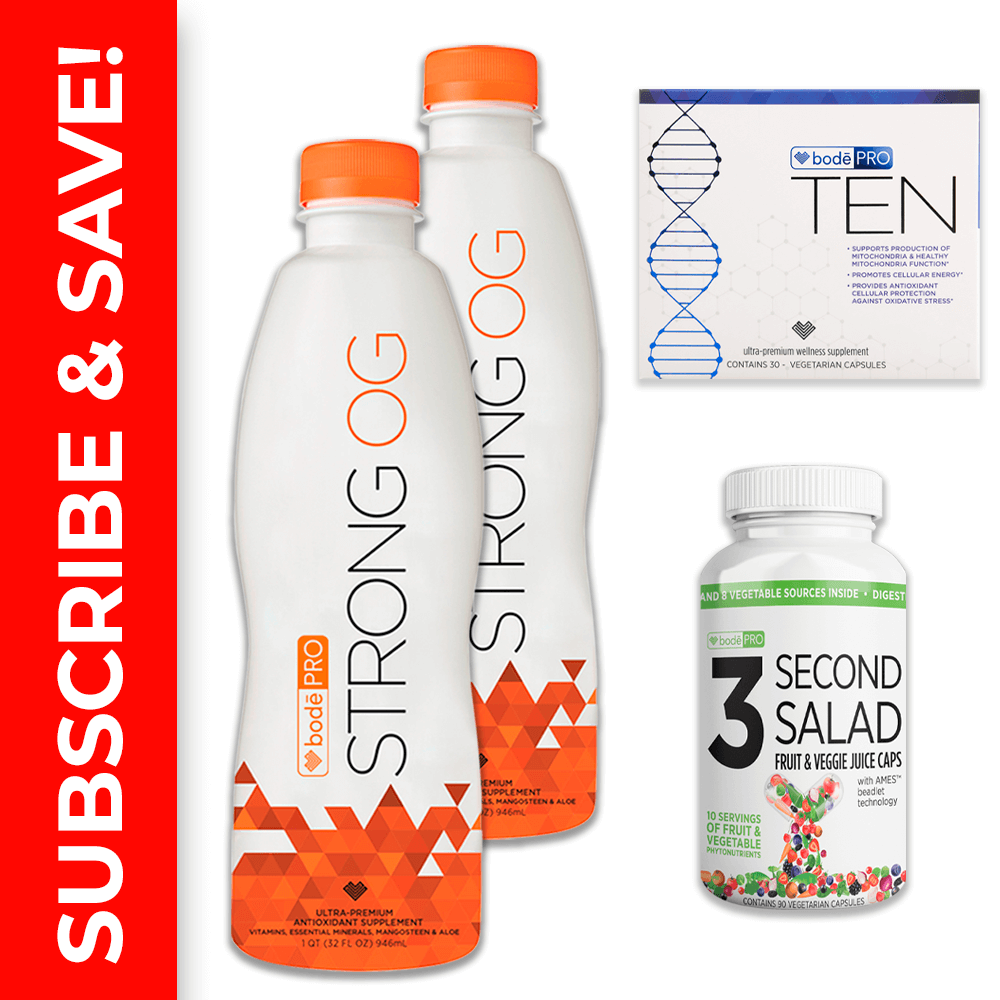 Complete Cellular Pack OG
1 Bottle 3 Second Salad (90 vegetarian capsules)
1 Case Strong OG (2 - 32 oz. bottles)
1 Box TEN (30 capsules)
Price:
163.00 USD
146.00 USD
(with subscription)
Setup monthly AutoShip and save 10% off each Purchase of this item
Our Complete Cellular Pack OG may just be one of the most powerful combination of products we've ever created. This special pack combines the power of 10 servings of fruit & vegetable phytonutrients with the clinically studied power of Strong OG, the original liquid immune booster, with the clinically studied power of Bodē TEN to supremely nourish and energize your body at the cellular level.* †
This exclusive Complete Cellular OG pack contains built-in savings that level up when you Subscribe & Save! Never worry about running out of your favorite products and save an additional 10% on this Cellular Nutrition Pack when you set up AutoShip.
The physician formulated 3 Second Salad provides the phytonutrient equivalent of 10 servings of fruits & veggies all contained inside a convenient, portable, and ready to take capsule.† The groundbreaking AMES™ beadlet technology inside each capsule allows 3 Second Salad to provide a slower and protected release of phytonutrients for maximum nutrition absorption.*
Strong OG is quite possibly the most powerful liquid antioxidant available anywhere and packed with 12 essential vitamins, over 65 plant-sourced minerals, whole-fruit mangosteen, organic glyconutrient-rich aloe vera, and organic decaffeinated green tea.* Strong OG actively works to nourish your body on a cellular level.* The benefits of Strong OG have been backed by two distinct scientific clinical studies which have shown the power of this bioavailable formula.
Bodē TEN is an ultra-premium nutritional supplement that enhances cellular energy production, increases stamina, and reduces oxidative stress.* Working at the cellular level, this proprietary formula provides essential nutrients needed to support your body's mitochondria-the power generators of your cells.*
Bodē TEN is a powerful product that provides your cells with critical support when they need it most. This proprietary formula has been clinically studied six times to demonstrate its effectiveness on human mitochondria.
The Complete Cellular OG pack is the ultimate trifecta of cellular wellness, providing well-rounded support to all your 37 trillion cells.
Be sure to Subscribe & Save today to unlock your best price!