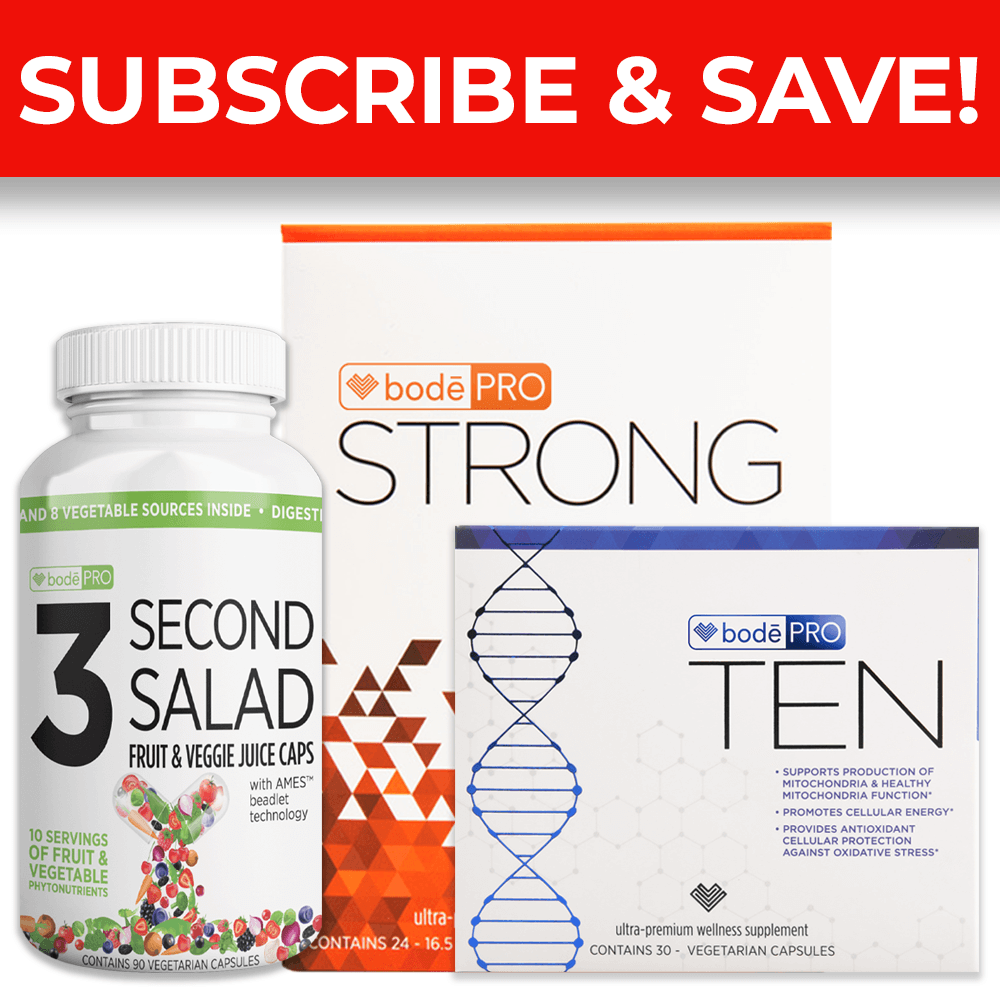 Complete Cellular Nutrition Pack
1 Bottle 3 Second Salad (90 vegetarian capsules)
1 Box TEN (30 capsules)
1 Box Strong (24 packets)
Price:
173.00 USD
155.00 USD
(with subscription)
Setup monthly AutoShip and save 10% off each Purchase of this item
Includes a FREE gift with purchase
Our Complete Cellular Nutrition Pack combines 10 servings of fruit & vegetable phytonutrients, 72 essential minerals, and digestive enzymes with the clinically studied power of Bodē TEN, and the bioavailable, immune-boosting properties of Bodē Strong to help nourish, protect, and energize your body at the cellular level.* †
This exclusive Complete Cellular Nutrition Pack may just be one of the most powerful set of products to maintain proper cellular health.*
This special pack contains built-in savings that level up when you Subscribe & Save! Never worry about running out of your favorite products and save an additional 10% on this Complete Cellular Nutrition Pack when you set up AutoShip.
The physician formulated 3 Second Salad provides the phytonutrient equivalent of 10 servings of fruits & veggies all contained inside a convenient, portable, and ready to take capsule.† The groundbreaking AMES™ beadlet technology inside each capsule allows 3 Second Salad to provide a slower and protected release of phytonutrients for maximum nutrition absorption.*
Bodē TEN is an ultra-premium nutritional supplement that enhances cellular energy production, increases stamina, and reduces oxidative stress.* Working at the cellular level, this proprietary formula provides essential nutrients needed to support your body's mitochondria-the power generators of your cells.*
Bodē Strong provides powerful bioavailable essential nutrients to help you build a strong foundation for wellness.* It features a spectrum of vitamins, plant-sourced minerals, a proprietary phytonutrient blend, and 20mg of plant-sourced silica known to maintain healthy skin, hair and nails.* This proprietary formula may be the most powerful antioxidant supplements ever created.
Take your daily health routine to the next level with our Complete Cellular Nutrition pack.
Free gift includes a Happy & Skinny 6-day trial pack (a $16.25 USD value)!